Since Schülke & Mayr was founded in 1889, the chemical pharmaceutical company has been a leading specialist in hygiene, infection prevention and chemical technical preservation. In 1996, they joined the French Air Liquide group. Today, Schülke & Mayr employs more than 600 people with 440 employees working in Germany and 90 in subsidiaries abroad.
Storage and pick modules must accommodate load carriers of varying size and different type such as IBC containers, European size pallets and individual product packages.

Observe fire safety regulations as well as environmental laws and directives imposed by public authorities.

Find a versatile storage solution that can be adapted to changing requirements.
Compact storage in 4 sectors

» The integrated logistics centre consists of 4 compartments providing a total of 18,500 pallet positions.

» An additional 650 storage positions in pallet racks are available in the pick area and in an intermediate storage area.

» For additional storage and work space, a mezzanine floor was fitted on top of BITO shelving.

» The storage blocks are separated by narrow aisles and serviced by stacker cranes moving on inlaid floor guidance wires.

Push-back pallet racking for collective deliveries

» The push-back pallet racking block is another important part of the racking package. It accommodates collective deliveries to be shipped to foreign markets.
Storage facility features
The main warehouse comprises 4 sectors used for product supply and intermediate storage.

In the case of fire, sprinklers are activated and each sector can be closed off hermetically with automatic fire-resistant doors.

In compliance with fire prevention regulations, sprinkler-protected areas are additionally fitted with in-rack sheet steel barriers.

All roller conveyor lanes feature brake rollers fitted to every pallet position.

The space on the mezzanine floor is used for storing advertising material on BITO shelving.
Storage and order picking have been merged into one logistics centre.
Maximum product availability while complying with all relevant fire prevention and environmental protection regulations for maximum safety.

Shorter travel routes
Brake rollers in push-back racking lanes avoid damage to pallets and products.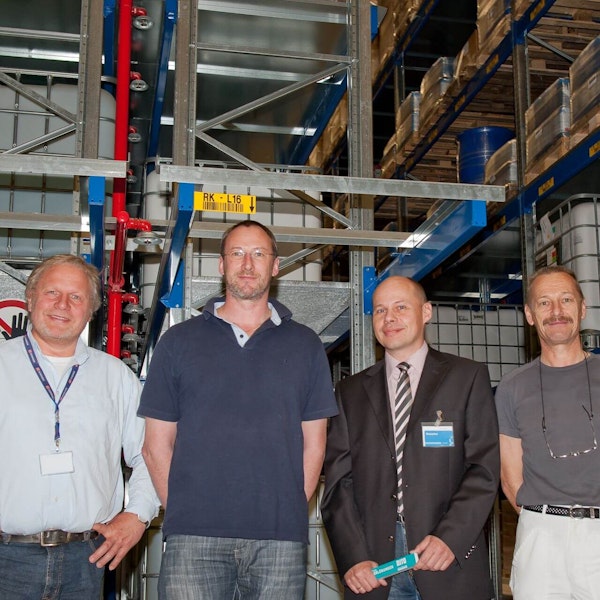 With 250,000 pallets to handle every year and looking at the product type, it is not only essential that our logistic equipment works flawlessly, but also that safety at work is not neglected. Safety is key, all the more so in a fast-paced environment. If you want to implement a project of this size in compliance with all regulations and on schedule, you need a reliable partner who is able to take a flexible approach.