For many decades, the company Konrad Hornschuch AG has been manufacturing and supplying a wide range of decorative and functional films, foam films and artificial leather to customers in the furniture, construction and automotive sectors. Founded in 1898, the Hornschuch group's headquarters are close to Heilbronn, Germany. With some 1300 employees and a turnover of more than €290 million, the film and foil manufacturer is a market leader in the sector of surface material design.
Store all Hornschuch products under one roof, organise fast order picking and reliable shipping

Drive down costs by centralising operations

Make best use of 11,000 sqm floor space (either to be refurbished or located in a large new building).

Improve access times and product availability.

Guarantee efficient order throughput with a reliable, sophisticated storage solution.

Maintain existing processes and still increase storage capacity.
» This central warehouse combines an ideal mix of high bay narrow/wide aisle pallet racking and shelving.

Perfect utilisation of warehouse height

» The BITO pallet racking block has a height of 20 metres and can accommodate up to 12,500 pallets.

» Another pallet racking block with some 2,800 pallet positions and a shelving facility in an adjoining building are used for order picking.

» Flow storage levels integrated into pallet racking bays at floor level height allow convenient picking of individual products.
Storage facility features
The blocks are serviced with two narrow aisle trucks

2 out of 10 narrow aisles accommodate an order picking zone.

All pallet racking units have been equipped with accessories to improve safety and functionality.

A pick zone with 1,200 pick locations provides small units in FIFO order.
Many pallet positions per square metre
No delays in order processing and shorter delivery times thanks to the product buffer store.

Orders can now be picked right from the high bay racking block. This reduces access times. Since high bay storage provides compact storage of a large number of units, product availability is excellent.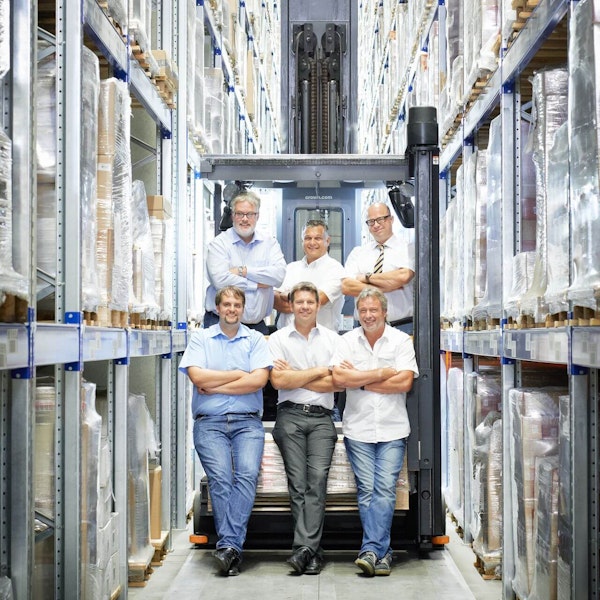 Improving logistics at our headquarters also builds value for our customers. We are now able to deliver some 98% of all products within 2 working days within Germany. European deliveries are just as reliable, since central warehousing allows us to benefit from optimised product handling and reduced transport times between buffer store and order picking areas. Short access times, a very good product availability and compact storage are further benefits.