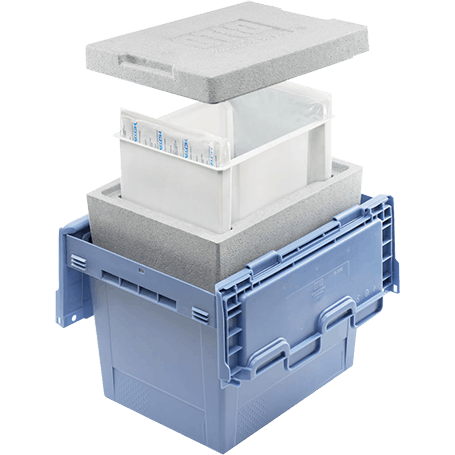 Shipping solution for logistics professionals in the pharmaceutical supply chain
Ideal for handling temperature-sensitive medicines and vaccines.
The thermal insulation set maintains constant in-box temperatures.
Perfect for last-mile deliveries of corona vaccines.
Hygienic. Safe. Easy to clean.
We appreciate your interest in this product. Request your no-obligation offer!
Send your enquiry

Temperature-controlled storage and shipping
Safe product handling at a constant temperature of 2-8°C for at least 12 hours.
The BITO thermal insulation set fits perfectly into BITO MB distribution containers and allows medicines and vaccines to be transported safely and securely at in-box temperatures between 2 and 8°C maintained for at least 12 hours. It combines an impact resistant box insert from polystyrene, a Neopor foam inlay and three cold packs ICECATCH® Solid Insulated.
Uninterrupted cold chain from manufacturer to patient
Maintaining product safety along the entire value chain has always been in the best interest of any manufacturer. Supplying safe products such as temperature-sensitive vaccines is even vital for users and pharmaceutical companies alike. This is why vaccine manufacturers rely on refrigerator trucks that maintain temperatures as low as -80 °C for freight transportation to wholesalers and vaccine depots!
However, chiller trucks would be uneconomical for last-mile deliveries between vaccine depot and patient. This is where the BITOBOX MB comes in. Fitted with the BITO thermal insulation set, it is the perfect solution for transporting medicines and vaccines at a constant temperature of 2-8°C to the end user!
What are the benefits of BITO MB pharma boxes?
GDP-compliant shipping of temperature-sensitive products such as pharmaceuticals, vaccines, etc.

Tried and tested for use in summer and in winter to keep your products at a constant temperature of 2-8°C for at least 12 hours.

Hygienic solution: the box insert is easy to remove and to clean

Hardwearing and durable, BITO MBs are perfect for use in multiple distribution cycles. One of our best selling bin series!

Cold packs come with an insulating layer to prevent freezing to the product.

Consecutively numbered, bar-coded security seals discourage tampering and unauthorised access to the contents.
This BITO solution meets all material handling requirements of pharmaceutical wholesalers
Hygiene, safety and transparency are of utmost importance in hospitals and vaccination centres. The same care must be taken with medical product carriers used for distributing medicines and vaccines from pharmaceutical wholesalers to hospital pharmacies or between hospital departments. In order to meet the manifold requirements of external and internal distribution logistics, the Meisenheim-based manufacturer BITO-Lagertechnik developed their robust multi-trip container series MB which has been extremely successful in manufacturing and distribution environments of any industry. For use in the pharmaceutical sector, the MB series comes with an integrated thermal insulation set. The BITOBOX MB is appropriate for storing, picking as well as for transporting goods to in-house and to external destinations. This makes product handling very convenient, since no time and money will be wasted by the need for re-packing goods and re-ordering packaging material. And last but not least, shorter order processing times help to streamline logistics. The MB container series comes in many sizes and with many equipment options to suit any application.
Application notes